Greetings, VCS family and friends,
Sometimes days seem to take a direction of their own.  Slight disappointments or inconveniences can impact our moods, impair our judgement, cloud our vision, or even distort our memory.  
There were a few of those here this morning! There was nothing "big" in and of itself, just a cumulative sum of minor events that could steer you in the wrong direction should you not "let Jesus take the wheel."  Sometimes, you can laugh or you can cry. There will be times appropriate for both, but thankfully, many times we get to make the "heart choice."  In fact, sometimes "being joyful" can be our sacrifice. It can be our "offering." For all Jesus has done for us, could there be a more appropriate response? 
This made me think again about I Thessalonians 5:16-17: 
Be joyful always, pray continually, give thanks in all circumstances, for this is God's will for you in Christ Jesus.
So along with these thoughts, here from the VCS office, we wish you a very "Happy Thanksgiivng." Our prayer is that your break be peaceful throughout all the activity. We pray that your hearts and homes be filled with the Joy of the Lord.  And we remind ourselves also that "perfection" is unattainable apart from Christ. He is our righteousness.  And if He can see us through the eyes of His Son, may He grant us the grace to see as He sees. 
Blessings, and a Very Happy Thanksgiving! 

In Christ,

Kathy Thompson
Doe on the Go Fundraiser! 
We give big thanks to our Fundraising Committee! The "Doe on the Go" Booya and Bake Sale was a success. We are so grateful for all those who participated by dedicating their time, stopping by to support, or donating items.  Everyone made this feel very much like a "family" effort. 
12 Days of Christmas Giving
It is time to begin our "12 Days of Christmas Giving"! This is one of the best parts of Christmas at Valley because it's an opportunity to bless others in the community. All items will be donated to People Loving People. Please take special note of the flyer included. You can send these items to school any day between Nov. 29th and Dec. 14th.  Encourage your kids to participate and join in the fun of helping others. 
Samaritan's Purse Packing Center
High School parents should have received an email from Operation Christmas Child to sign a waiver for our adventure to Aurora, Il. Please sign that waiver right away. If you have not received this email let the office know.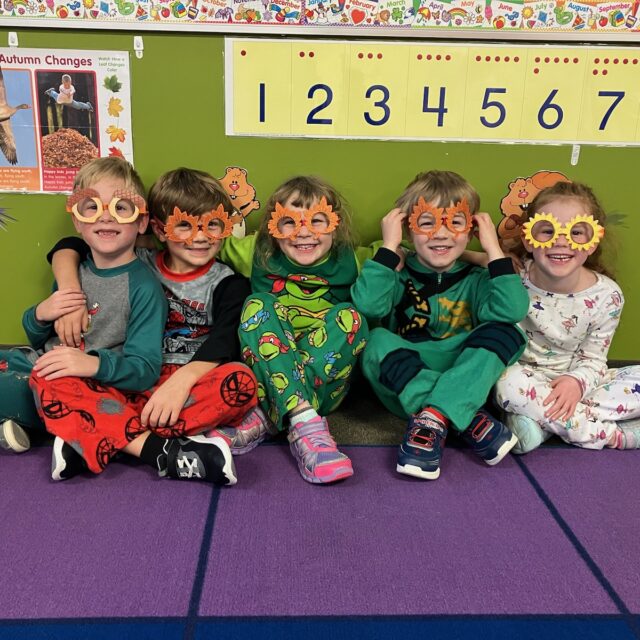 Nov. 22-24   Thanksgiving Break
Dec. 5           6:00 VCS Board Meeting
Dec. 7           Ski Club Begins
Dec. 7-8        High School to Operation Christmas Child
Dec. 21         6:00 Christmas Program
Dec. 25 – Jan. 5   Christmas Break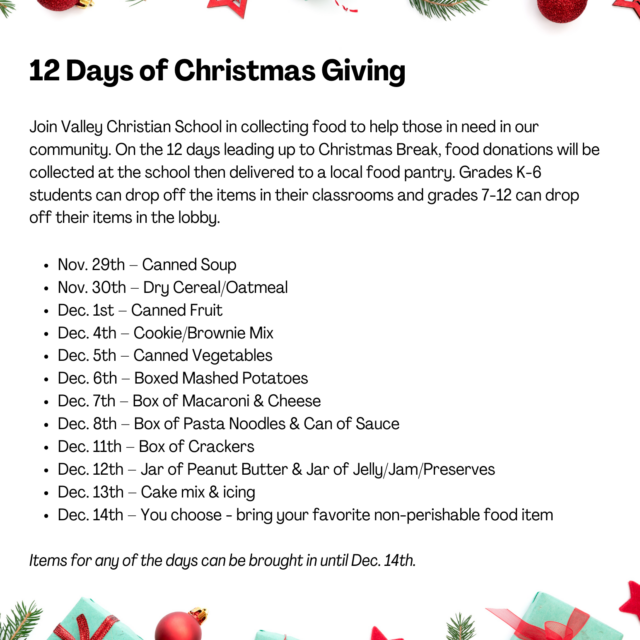 Subscribe to our newsletter.
Stay up-to-date about the latest news about Valley Christian School delivered right to your inbox!